Welcome to Casco Bay Mooring, Inc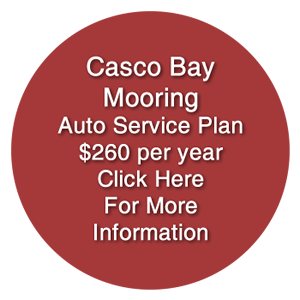 At Casco Bay Mooring we understand the mooring needs and concerns of boat owners...Protection and Worry-free maintenance. Our Company provides a host of services primarily designed to remove the work from your boating experience.
Our experienced crew has been, selling, installing, inspecting, and servicing moorings in Casco bay since the mid 80's. We will ensure that your mooring set-up is safe and meets local harbor master regulations. Our equipment consists of two iconic work boats (acquired from Greene Marine) and has lifting capacity up to 5000 lbs. Also, we operate centrally from Madeline Point on Cousins Island and available all-season round.
Moorings are safe as a dockside berth and sometimes preferable as they are less taxing on boats. Moorings are designed to withstand challenging weather and tides. We set and maintain moorings in Yarmouth and the surrounding islands and aware very of the rules and regulations. These regulations are designed to maximize the safety of your vessel as well as other vessels in your harbor.
Casco Bay Mooring is glad to sell you all your DIY mooring supplies and make recommendations or accommodate you with our peace-of-mind automatic service. We service, but are not limited to, Falmouth, Freeport, Bustin's Island, Yarmouth, Cumberland, Chebeague Island, Moshier Island, Broad Cove and Madeleine Point Maine for all of your Morring Service needs!
Home | About | Services | Payments | Products | Helpful Links | Contact | Yarmouth, Maine | Stewart Hunt | (207) 751-4908
This site was designed and is hosted by Langer Enterprisers