About Casco Bay Mooring, Inc
At Casco Bay Mooring we understand the mooring needs and concerns of boat owners...Protection and Worry-free maintenance. Our Company provides a host of services primarily designed to remove the hassle from your boating experience.
Our experienced crew has been, selling, installing, inspecting, and servicing moorings in Casco bay since the mid 80's. We will ensure that your mooring set-up is safe and meets local harbor master regulations. Our equipment consists of two iconic work boats (acquired from Greene Marine) and has lifting capacity up to 5000 lbs. Also, we operate centrally from Madeline Point on Cousins Island and available seasonally.
Moorings are safe as dockside berths and sometimes preferable as they are less taxing on boats. Moorings are designed to withstand challenging weather and tides. We set and maintain moorings in greater Yarmouth, ME and surrounding islands and aware of the rules and regulations. These regulations are designed to maximize the safety of your vessel as well as other vessels in your harbor.
Stewart grew up on the water in Brunswick and worked for both Paul's and Dolphin Marinas. He also worked his way through college, spending summers, at the DMR in Boothbay Harbor testing for paralytic shell fish poison and winters as a commercial scallop diver on Casco Bay. In 1988 he graduated from the University of Southern Maine with a degree in Biology. Soon thereafter he landed his first job in Boston with E.I duPont. After DuPont Stewart and his wife, Lianne, purchased a bakery franchise (Great Harvest Bread Co.) and opened two bakeries in the Boston market. They sold the bakeries in 1999 and returned home to Maine. Stewart has been involved in Biotech for a majority of his career and just recently founded the US division of a Swiss Biotech company at the Brunswick Landing.
In late 2017, he purchased the mooring assets from Greene Marine in Yarmouth, which allows Stewart the opportunity to work more on the water rather than tied to an office. He looks forward to continue working with Joan Greene and crew to service local customers and grow the mooring services. Casco Bay Mooring will also segue into raising kelp, oysters and eventually scallop aquacultures late 2018.
Stewart lives in Yarmouth and enjoys Casco Bay with his wife and two children (Henry and Elizabeth)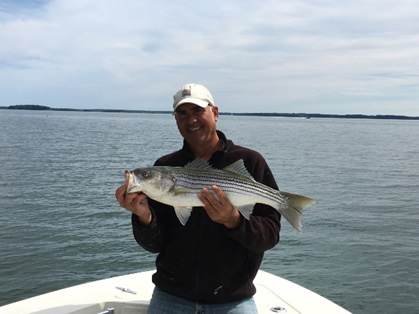 Home | About | Services | Payments | Products | Helpful Links | Contact | Yarmouth, Maine | Stewart Hunt | (207) 751-4908
This site was designed and is hosted by Langer Enterprisers